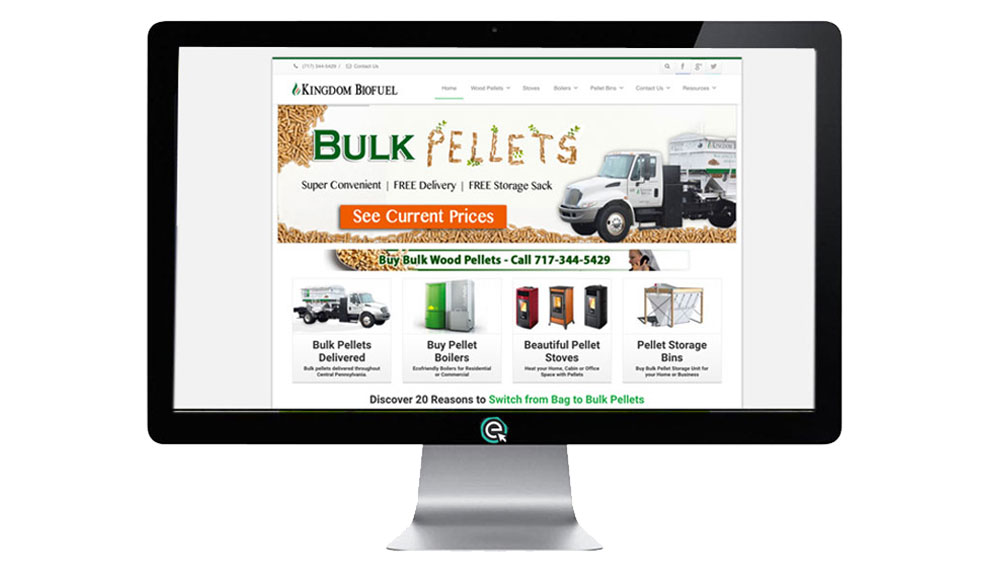 Website and Marketing for Kingdom BioFuel
When E-Impact Marketing was in its inception, Kingdom BioFuel became our second client! They came with a need to build a website to bring their Heating Pellet business online. Before coming to E-Impact Marketing, they had a small one-page website which did very little for them. We had a great challenge in front of us and went to work creating a website that would help their company grow.
Soon after the website was launched, traffic started coming their way. We soon implemented PPC campaigns in Google and over the past several years have been growing their website to catch more and more attention organically. Today, they give the website credit for saving their struggling company. The huge growth they saw over the years inspired them to invest in their own Pellet Mill located in Peach Bottom PA.
Features of the Kingdom BioFuel marketing plan include:
Search Engine Optimization on the website
In Bound Marketing Solution that captures leads which can then become customers.
Social Media posting to Facebook, Instagram and more
Paid Ads in Google and Facebook
Photography and Videography
There is a lot that has gone into the Kingdom BioFuel website and there is much more to come!
Ephraim says this:
Thanks Chris and Mustafa for the good job on the website. It really is working well. Keep it up! I love working with you all.